Podcast: Play in new window | Download
Shari talks with Lindsey Paige Markus, an estate planning attorney, and author of the book A Gift for the Future – Conversations About Estate Planning. They discuss Lindsey's path to becoming an attorney, proactive estate planning for every stage of your life, why she wrote the book, and how creating a gift for the future can maximize your return on life today.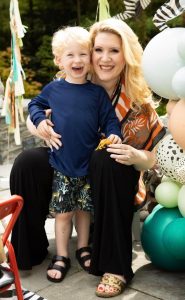 Lindsey Paige Markus is a shareholder with Chuhak & Tecson, P.C., a boutique law firm in Chicago, where she leads the firm's 25 attorney estate planning & asset protection group. In her practice she assists business owners and families in planning their estates, protecting assets, transferring wealth and minimizing taxation. She works closely with clients to formulate succession plans, advise on business formation, maximize wealth preservation and minimize gift and estate taxation. Licensed in Illinois, New York and Florida, Lindsey has a national practice.
Passionate about educating clients and advisors about death and taxes, Lindsey appears on local television shows and authored A Gift for the Future – Conversations About Estate Planning, in April 2022. The book was quickly a #1 Best Seller on Amazon in Legal Self-Help and a #1 New Release in several categories. A Gift for the Future takes readers on a journey through the world of estate planning. In her easy-to-follow writing style she provides the ins and outs of every estate planning tool from simple to advanced. By interweaving the family story of Jack and Diane she leads readers through estate planning needs from the time they decide to marry through the birth of children, business growth, divorce, and the formation of new families and relationships along the way. Russ Sullivan, the former staff director for Senate Finance Committee and one of America's leading tax authorities, authored the foreward, noting "Death and taxes are inevitable for all of us, making this book a wonderful tool for everyone."
Passionate about philanthropy and giving back, Lindsey is a founding member of Chuhak & Tecson's Women Helping Women initiative, sits on the Jewish United Fund's Executive Board, Advocate Charitable Foundation's Gift Planning Advisory Committee and co-chairs American Technion Society's Midwest Planned Giving Committee.
Lindsey has been recognized in countless publications, including Leading Lawyers, Super Lawyers, Crain's Chicago Business as a Notable Gen X Leaders in Accounting, Consulting and Law, Crain's Notable Women in Law, and as a Top Woman in Law by Chicago Lawyer.
Connect with Lindsey:
A Gift for the Future: www.AGiftForTheFuture.com
Personal website: www.LindseyMarkus.com
Get a copy of Lindsey's book A Gift for the Future – Conversations About Estate Planning here.
LinkedIn: https://www.linkedin.com/in/lindsey-markus-a279237/
Email: lmarkus@chuhak.com
Get your copy of Maximize Your Return on Life here.
To learn more about Shari Greco Reiches, visit https://sharigrecoreiches.com/
To learn more about Rappaport Reiches Capital Management, visit https://rrcapital.com/
To discover your core values, visit https://rrcapital.com/blogs-and-more/do-you-know-your-core-values