Podcast: Play in new window | Download
I am a storyteller by nature and recently published my first book:  Maximize Your Return on Life. In this podcast I share my inspiration for writing the book, and why I feel so strongly about using your Core Values to guide key decisions on how you spend your time and money.
The book explores:
Your early and profound memories of money — memories that shape your relationship with money today
Your Core Values — how to identify them and let them guide you in important decisions
Understandable financial planning and investing strategies
How to ensure that your loved ones are protected
"In Maximize Your Return on Life, Shari empowers investors to make smart money decisions by focusing first on what's truly important to them — their core values. By asking the right questions and fully understanding what matters most to her clients, Shari delivers invaluable advice that helps them stay invested and stick to their long-term plans."   – David Booth, Founder and Executive Chairman, Dimensional Fund Advisors.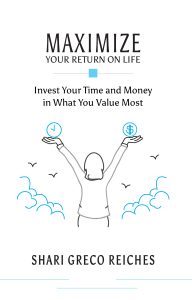 Get your copy of Maximize Your Return on Life here.
To learn more about Shari Greco Reiches, visit https://sharigrecoreiches.com/
To learn more about Rappaport Reiches Capital Management, visit https://rrcapital.com/
To discover your core values, visit https://rrcapital.com/maximize-your-return-on-life-blog/your-lifes-grocery-list