Podcast: Play in new window | Download
Shari chats with Liz Tinkham, host of the Third Act Podcast. On Third Act, Liz talks to guests who are happily "pretired" – using their time, treasure, and talent to pursue their purpose and passion in the third act of their life. Shari and Liz discuss tips for pre-retirees, what retirement looks like today, and how to maximize this most important time.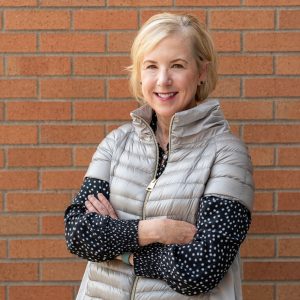 Liz Tinkham is a dynamic leader and respected advisor to C-level executives on issues of technology, digital transformation, and leadership. She excels in bringing people, business, and technology together to drive exceptional business results. Liz motivates executives and teams, helping them cut to the heart of ambiguous problems, come together as collaborators, and achieve business outcomes. Pierre Nanterme, former CEO, Accenture, called Liz, "an inspirational global leader and business builder adept at identifying and exploiting scalable, profitable growth in digital areas".  Her straight-forward leadership style and experience working with both Fortune 100 executives and millennials make Liz a powerful advisor to companies looking to navigate change brought on by digital or technology transformation.
Liz currently serves on the Board of Directors of Atos, a French-based, multinational IT services and consulting firm, of Particle, a San Francisco-based, full stack Internet of Things company; of Headspin, a cloud-based mobile test automation platform company, and The Athena Alliance,  a digital platform for executive education, community, and access to CXO and Board opportunities for top women in business.  She also advises the state of Washington on educational and equity issues through her position as the Chair of the Board of Washington STEM.
Liz most recently served as a Senior Managing Director at Accenture where she was a long-time member of the Firm's Global Leadership Council and the Global Lead for Microsoft.  Under Liz's leadership of her 5500-person team at Microsoft, account revenue more than doubled, profit margins increased by 25% and Microsoft became the largest of Accenture's commercial clients.
Prior to Microsoft, Liz served as Accenture's Global and North American Management Consulting Lead for the Communications, Media and Technology verticals.  Responsibilities included Revenue growth, M&A activity and Chairing the CMT Investment Board.
Liz teaches a management consulting class at the University of Washington's Foster School of Business and a graduate seminar class for Nonprofit Board Management.
Liz enjoys hiking, SoulCycle, travel, doing podcasts and spending time with her husband and three children. As a proud graduate of The Ohio State University, where she received a B.S. in Aerospace Engineering, Liz is an avid Buckeye fan.
Connect with Liz: https://www.linkedin.com/in/liztinkham/
Atos: https://atos.net/en/
Particle: https://www.particle.io/
HeadSpin: https://www.headspin.io/
The Athena Alliance: https://athenaalliance.com/
Get your copy of Maximize Your Return on Life here.
To learn more about Shari Greco Reiches, visit https://sharigrecoreiches.com/
To learn more about Rappaport Reiches Capital Management, visit https://rrcapital.com/
To discover your core values, visit https://rrcapital.com/blogs-and-more/do-you-know-your-core-values